Art Direction
French Bloom, Art direction for a new Art de Vivre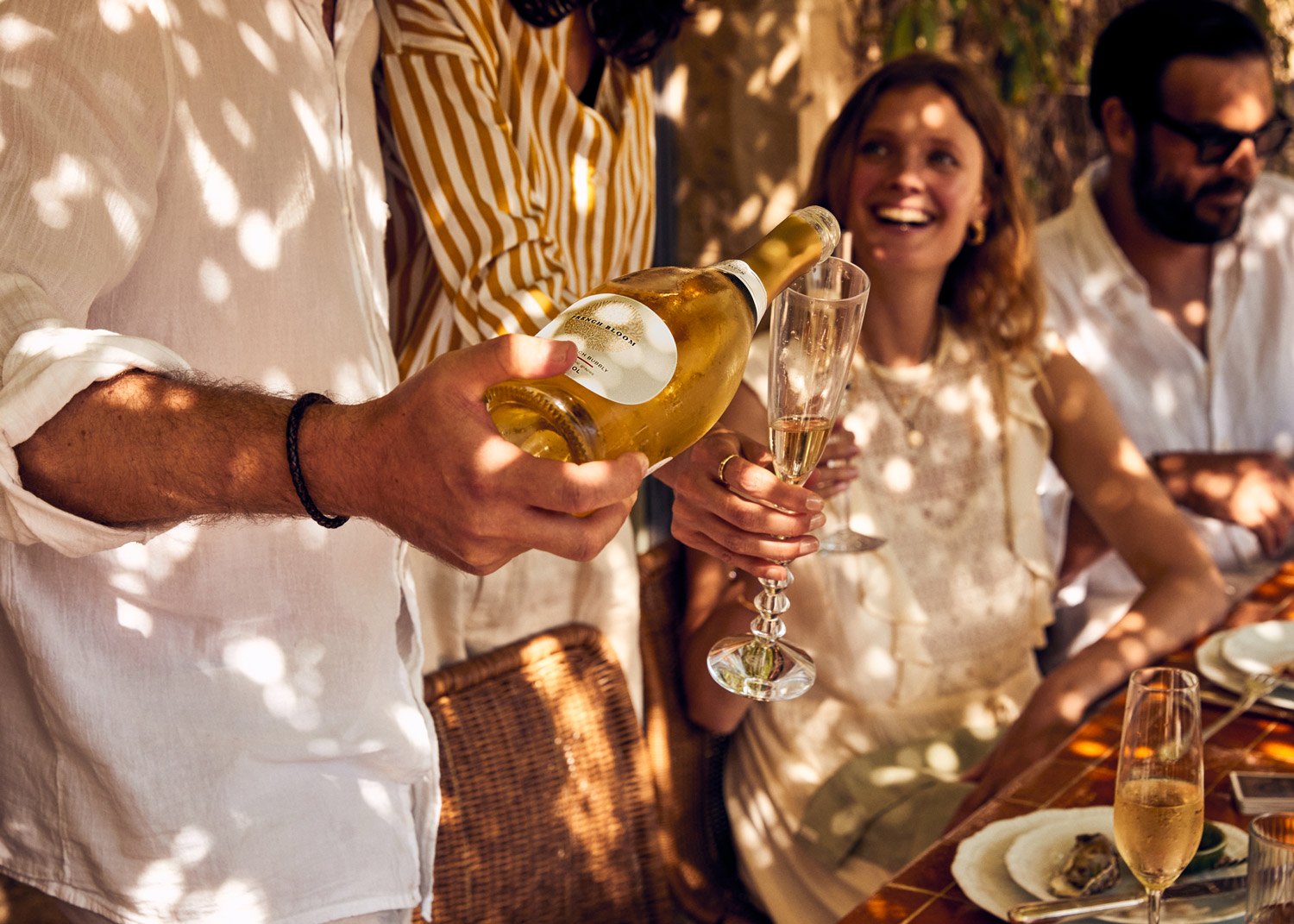 Masha Kontchakova,
Creative director,
& founder at Frontline Studio
Head of communication and creative director of Frontline Studio, Masha Kontchakova puts her sharp eye on brands to help them emerge. For French Bloom, the alcohol-free bubbly wine, she brought her creativity to develop the brand's art direction through a photo and video campaign.
What inspires you about French Bloom and what were your inspirations for the Art Direction of this project?
French Bloom has developed a non-alcoholic sparkling wine that is a new version of champagne for those who do not wish to drink alcohol. I wanted to find out how this drink is different from others – wine, beer… Champagne by its very nature is a festive drink and above all a drink of celebration. We never drink champagne alone and we drink champagne to celebrate. "Champagne!" – we exclaim when we have won or achieved something important. 
So the whole art direction revolved around that – a festive moment of sharing. 
What were the different stages in which Frontline was involved? (stylisme, post-production…)
What's special about Frontline is that we do everything in-house. Every client who comes to us will have only two people to talk to – me and Emma Brante.
On the French Bloom project we handled the entire production of the website, which includes editorial, messaging, text, design, graphic design, art direction, styling, photo production, post-production… bringing together the different talents on the project.
From a marketing standpoint this makes Frontline Studio less readable, less easy to categorize as an advertising company, but we like it that way. We have the pleasure of working on all these posts and in the end the client is always happy to have us because we guarantee the consistency of the art direction.
How did you choose the talents you wanted to collaborate with on this project?
I really like Bruce Weber's group photos and especially his work for the Italian brand Dedon – it's always the spontaneous moments, caught in the heat of the moment where people are smiling, uninhibited, caught up in the event. I wanted to find this feeling in the photos to be produced.
While strolling in a bookstore, I came across the book "Paris Chic" by Assouline with a superb work by Oliver Pilcher. I loved his look at our capital, I loved the way he captured moments of intimacy and happiness sharing between people. I was completely seduced by his approach. 
I contacted him. He happens to live in Costa Rica…. It was not easy to persuade the client to hire a photographer on the other side of the world, when we have so much talent in France. But I succeeded in my bet. I am very happy with this collaboration with Oliver and the result is exactly what we expected!
"French Bloom reinvents moments of happiness and conviviality." How did you manage to convey this new Art de Vivre through the photo campaign of French Bloom?
I think the most important thing is to take the right tone, here it's spontaneity, naturalness, good-natured spirit. Then to find the photographer who knows how to capture it – that was really the case with Oliver Pilcher.  And then let things happen. You always need a good dose of trust in this kind of production that involves so many people. It's all about saying that what you want to convey is the only possible direction. 

Every project is different, in terms of vision, mood, statement. How does Frontline Studio manage to dive into each of the brands' universes with which you collaborate?
It's actually quite easy! A good dose of curiosity and cultural references, and then you let your imagination work!
I have a lot of books and I've always loved books, I draw from them – from art, photography, architecture. Most of our projects start with research, I need to capture the essence, to get the real principles on which we can then put our creative eye. The meaning is very important in Frontline studio work. 
In addition to the photo shoot, a video campaign was created. How is this type of campaign organized and what were the challenges?
The production of this campaign was a real challenge! We shot in Provence and with 10 people to manage! The production part was very busy – we had to deliver the styling there, scout the day before to find great spots, take care of not only object styling but also clothing styling with its share of surprises at the last moment… We shot from sunrise until late at night. 
The biggest challenge was physical: for the end of the video we absolutely wanted an unobstructed view of the Beaux de Provence where the women will meet the sunrise. We climbed mountains, passed through very prickly brush to get to the end of the cliffs, Oliver was barefoot! It was very nice, these are the moments I like the most on the shoot and it was really worth it, because we found an incredible view!  
Discover the whole project for French Bloom here.